on
April 23, 2014
and modified on April 19, 2014.
Look! It's the house from the Prologue cover! :)
On a complete different note, I decided to start a Patreon campaign!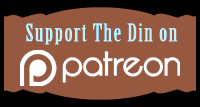 If you want to support the comic; spread the word or head over there and pledge! I'd be eternally thankful. :)
See you in a few days!
This page was originally drawn and posted 2011.
Reformatted, rewritten & cleaned up 2013.
This is what I originally wrote to this post:
"Change of scene! Only a few pages left! <3
I realize 7 years is one hell of a long time. On the other hand I know what living with noise in the ears / tinnitus for 7+ years feels like. Life goes on even if you feel down about it once in a blue moon! :)
Oh, and here's an awesome fan art of Rose I got from my friend Konira on my 25th bday! It's awesome! :) "