on
January 26, 2015
and modified on January 27, 2015.
Yes, so that were the explicit closeups I was talking about earlier. Make sure to catch up on page 33 and 34 because I posted them at the same time as this one! Two clicks back!
Some may argue that this first panel of this page is more explicit than previous two pages, but since it's not a closeup, I think it's fine. What do you think? Is it too much to leave on a front page for new visitors, without a warning? In that case I'll post a place-holder here, no worries. Just tell me what you think. :)
I am aware these time jumps are a bit confusing still, but I am working on a better way on presenting this in my next edit run. I know I keep saying this every time a time-jump occurs, but you have my word~ Right now I just really need to wrap up the colors for this Chapter. I should be done around March. Then I will jump straight to edits. Thanks for all the great suggestions and support this far!
I know some people speculated that there would be explicit closeups caused by the airplanes. Sorry if this disappointed you! It's a pretty good guess, though! I wanted page 33 to have the first impression that it was inflicted by the airplanes, but obviously – that's not the case. Thus, the sudden scene change!
People whom I let read the whole Chapter 1 have given me different reactions: some really like the sudden cut, but some would have liked a smoother transition. I can't decide what's best right now, but I made a thumbnail of an eventual transition-spread idea: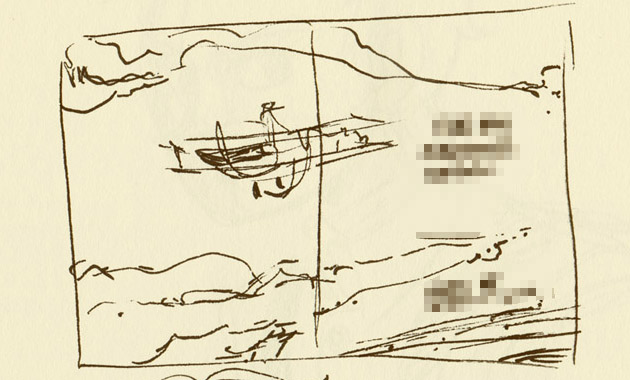 It's basically the airplanes + a transition monologue like the one in the end of the Prologue. Can't make up my mind just yet. Right now I like it the way it is. Abrupt and dramatic.
Also, I just want to say that page 33-36 is important to the story and are not just pointless violence to poor misshapen people (I mean, we just saw what John did after all!). This scene and characters will make sense later, but might seem frustrating now that I only update once a week. Page 37 + onward to the end of Chapter 1 is less heavy! Promise!
And finally, I'm sorry I posted this update a bit later during the day than usual. There's a film festival here in Gothenburg and right after my day-time job I went to watch the documentary of Studio Ghibli (Kingdom of Dreams and Madness). What a brilliant movie! Super inspired after watching it! Truly recommend it!
See you next week!